Since February 2020, it's the first time in last three years, Cruise vessel. Diamond Princess, comes to Yokohama Daikoku Pier.
Wilgo comes at Daikoku Pier to meet and pick up the passengers onboard from the cruise departing city, San Diego, CA. The vessel is huge!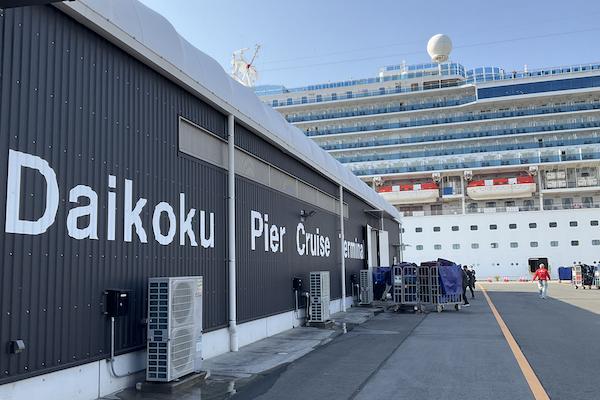 This time, Diamond Princess comes to Kobe city first, and then stops at Toba and here at Daikoku in Yokohama as the final destination. After getting through the immigration and customs, many passengers come out into the arrival lobby with luggages, even with pet animals. All passengers select and move to the exit of lobby, which navigate them to the transportation area in tour buses, shuttle buses, taxi and reserved vehicles, such as an accessible taxi. Many of the passengers take tour buses, but ones getting a taxi are on a long waiting line.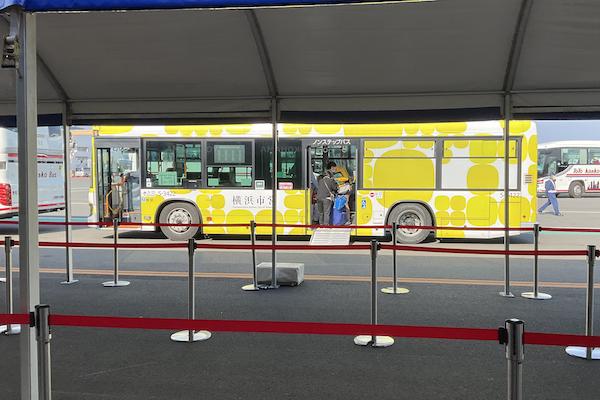 Passengers with large luggages or many ones have a difficulty in putting them into a trunk of taxi, which doesn't have good enough space for luggages. Some of shuttle buses have a ramp for a wheelchair, which makes wheelchair passenger can easily get onboard with an assistance. Boarding area of buses and taxies have temporally roofs, but the other area, such as private vehicles parking, has no roofs. It might be hard for anyone on rainy days.
The passengers who Wilgo welcomes are the party of two, husband on an electric scooter and wife. Wilgo navigates the husband into the cabin by the wheelchair lift in the rear gate, and he moves to a cabin seat. All luggages and a wife get onboard, and then all are ready for driving to their hotel in Tokyo Downtown.

As Wilgo heard that this party would visit Kyoto and Hiroshima before they would leave Japan, Wilgo assists them in getting train tickets of multi purpose room on a bullet train as well as reserving accessible taxi in both city. Due to COVID-19, traveling and sightseeing in Japan were forced to cease, and now it's start re-opening including visitors coming from all over the world. Regardless of coming to Japan by flights or cruises, regardless of using wheelchairs or scooters, Wilgo supports them in enjoying days here in Japan as much as possible.