One of most popular sightseeing spot is Sensoji in Asakusa where traditional Japanese cultures welcome all visitors from all over the world. Surrounding Sensoji, there are the oldest amusement park, Hanayashiki, many theaters, retails and restaurants, which everyone can feel atmospheres of Japanese culture.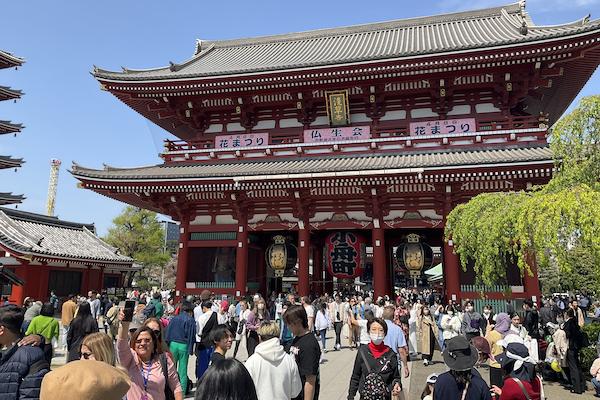 Sensouji has several gates, and main one is Kaminari-mon Gate, where is close to the subway station as well as facing to Kaminari-mon Street. It is the main entrance to Sensouji, and there are many retails both side on the way to Main Hall. Because of high popularity spot, it's always crowded, and the street is filled with taxies, buses and rickshaws(Jinrikisha). Although this gate is good one to start exploring Sensouji and shop street, it might not be suitable place to get on/off an accessible taxi, depending on the condition of traffic jams. If you don't care about entering into the temple through Gaminari-mon gate, Wilgo recommends getting on/off on the street just in front of Niten-mon Gate where is on the east side and very close to the main hall as well as less traffic. Accessible restroom is also close to Niten-mon Gate. At the west side of the main hall, accessible elevator is ready for you to get to the upper level of the main hall.
Wilgo is happy to assist you in exploring Sensouji and Asakusa area, and new sightseeing spot, Tokyo Sky Tree, is just 1 mile (1.6 km) away from Niten-mon Gate.