Narita and Haneda Airport are the main entrance to Tokyo, Japan from overseas.

Haneda Airport, where is located in near distance from downtown Tokyo, gets new facilities such as Haneda Airport Garden, Haneda Innovation City, and Haneda is now becoming sightseeing spot, not only the airport. Narita Airport, where various airlines including LCC (Low-Cost Carrier) fly into, serves many visitors for 45 years as the gate way to Tokyo, although it locates away from Downtown Tokyo.
For those who use airport, it would be very big concern how smoothly access to and from airport. Airport Bus service, offering various routes, is convenient for those who have luggages, but it's not accessible unfortunately for wheelchair travelers except checking the wheelchair. On the other hand, trains, Tokyo Monorail and Keikyu to Haneda, Japan Rail and Keisei to Narita, are accessible, but it's not easy to carry many luggages with you. It looks easy and comfortable, especially for wheelchair travelers, to take a taxi or van services to and from airports if you are in a party of several members. Wilgo is one of accessible taxi based in Tokyo.
At Haneda airport, each terminal has drop-off and pick-up zone dedicated for those who need special assistance. All zones are located at the curbside and accessible and they are not so crowded because they are away from taxi stops.
Terminal 1: Departing Level / Arrival Level
Terminal 2: Departing Level / Arrival Level
The dedicated zone at Terminal 3 where has only one Level for both Departing and Arrival are located close to spaces for all vehicles such as taxies, buses and private cars, which result very crowded situations. In the worst cases, the dedicated zone is occupied by those vehicles, and accessible taxies are forced to wait until others go out. Other dedicated zone are available at taxi stop lane where is connected with Terminal 3 building Arrival Lobby with the elevator down to street level. However private vehicles are not allowed to drive into this lane.
At all drop-off and pick-up zones, any vehicles would get the parking violation ticket if a driver leave a vehicle. The zone at Terminal 3 is located just in front of the Police Box, so it is always under monitoring. Fortunately, accessible taxies such as Wilgo are given the special permission allowing us to park vehicles in the dedicated zone in order to support those who needs special assistances.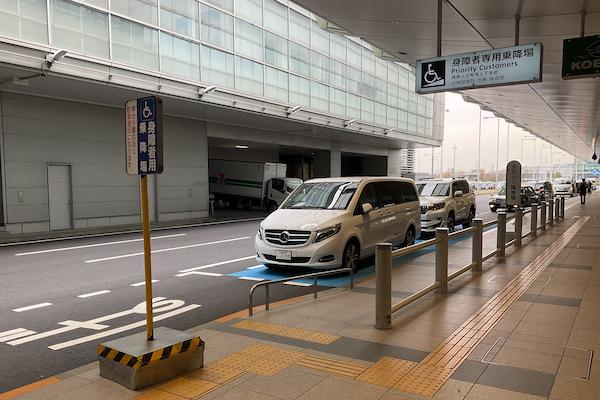 At Narita Airport, the situation is a little bit different from one at Haneda. According to Narita Airport Police Office, all vehicles would get the parking violation tickets even if with the special permission. Only one exception is the zone for taxies registered in the management committee of Narita Airport Taxi, which sounds only locally based taxi can be registered. That's why taxies based in Tokyo, for example, are not allowed to use this zone.
Thanks to this regulation, only one drop-off and pick-up zone, next to registered taxi zone which looks not busy, is always packed with vehicles with drivers even in the dedicated zone for those who needs special assistances. It's not the commendable situation, but reality.
In order to support wheelchair travelers and those who need special assistances, Wilgo park vehicle at the parking lot next to the terminal building. In Terminal 1, both P1 and P5 have dedicated space for wheelchair visitors, and P1 is closer to the terminal building and convenient.
In Terminal 2, there are the dedicated drop-off and pick-up zone, but same regulations are in place as Terminal 1. So, Wilgo park in P2 South parking lot, which is connected to the terminal building, and take the elevator move to the departing lobby or the arrival lobby. All routes are covered, no worry about weather condition.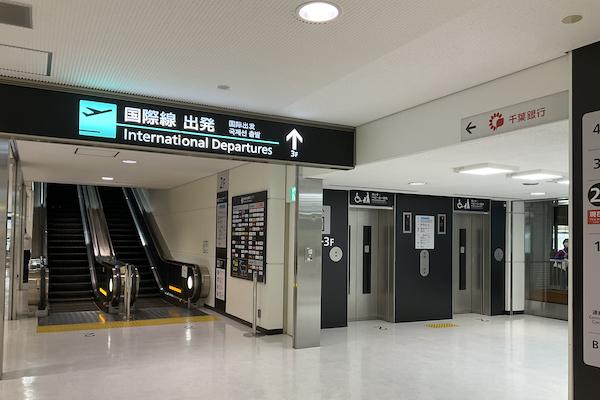 Exciting departure, Arrival with memories of travel. Airport transition shouldn't be cumbersome. Wilgo supports those who use a wheelchair or need special assistances in any manners, based on requests from our guests. Please feel free to contact Wilgo in advance.